Academic Excellence
As a comprehensive boys' school, the College has a culture of achievement.
Academic success is achieved through a combination of student application, dedication and hard work, and the significant support of families and our highly qualified, dedicated and expert teaching staff.

Contributing to this success is our innovative curriculum, structured specifically for boys. Fostering creativity and critical thinking is a natural part of our teaching, enhanced by integrated and sophisticated technology.

We know boys and shape their education in ways that fill them with a sense of purpose and success about their achievements. We are aware of their differences, their academic capabilities and interests as well as their challenges. So, we continuously explore opportunities to structure a more personalised, relevant curriculum that meets all of our boys' needs in the present, with the flexibility to adapt to change in the future.

College Curriculum
Our curriculum continues to evolve and develop through the use of a higher order thinking framework. We seek excellence in teaching and learning with a commitment to curriculum, renewal and academic challenge.
Year 5 and 6 (Stage 3)
Core Courses:
Religious Education
English
Mathematics
Science
History
Geography
Personal Development, Health and Physical Education
Visual Arts
Music
Drama
Italian
Japanese
Chinese
Introductory Courses:
Instrumental program
Choir
Coding Club
Green Screen 'Pop-Up Studios'
Scratch
Robotics
Specialist Drama
Specialised Science Based Laboratory Lessons
Talented Writing Program
Comprehensive IT and Digital Technologies program (including Minecraft and Imagine Logo)
Year 7 and 8 (Stage 4)
Mandatory Courses:
English
Geography
History
Languages - Italian, Japanese
Mathematics
Music
Personal Development, Health and Physical Education
Religious Education
Science
Technology
Visual Arts
Year 9 and 10 (Stage 5)
Mandatory Courses:
English
Geography
History
Mathematics
Personal Development, Health and Physical Education
Religious Education
Science
Elective Courses:
Chinese
Chinese Native
Commerce
Design and Technology
Drama (Performing Arts and Video Production)
History Elective
Industrial Technology - Engineering
Industrial Technology - Timber
Information and Software Technology
Italian
Japanese
Music
Photographic and Digital Media
Physical Activity and Sports Studies
Visual Arts
Year 11 and 12 (Stage 6)
Courses on offer:
Ancient History
Biology
Business Studies
Chemistry
Chinese Continuers
Chinese And Literature
Construction Pathways (Vet)
Design And Technology
Drama
Earth And Environmental Science
Economics
Engineering Studies
English Studies
English Standard
English Advanced
English Extension 1
English As an Additional Language or Dialect
Geography
History Extension
Industrial Technology – Timber Products and Furniture Technologies
Investigating Science
Italian Beginners
Italian Continuers
Japanese Beginners
Japanese Continuers
Legal Studies
Mathematics Standard
Mathematics Advanced
Mathematics Extension 1
Modern History
Music 1
Music 2
Personal Development, Health and Physical Education
Physics
Software Design and Development
Sport, Lifestyle and Recreation
Studies In Catholic Thought
Studies Of Religion 1
Studies Of Religion 2
Visual Arts
Acceleration Courses
Opportunities are provided for boys to learn a subject beyond the usual expectations for the age of the cohort. It is offered because they are exposed to the rigour and high expectations of an HSC subject which develops their capacity to think in more complex, challenging ways. The learning attributes acquired from this can propel their thinking and learning to higher levels of operation in other subjects which is greatly beneficial.
HSC Studies of Religion I is offered to a class of Year 10 students with identified strengths in literacy and the humanities.
HSC Mathematics is offered to a class of Year 10 students with identified strengths in numeracy and algebra.
HSC Design & Technology is offered to a class of Year 10 students with identified strengths and skills in this field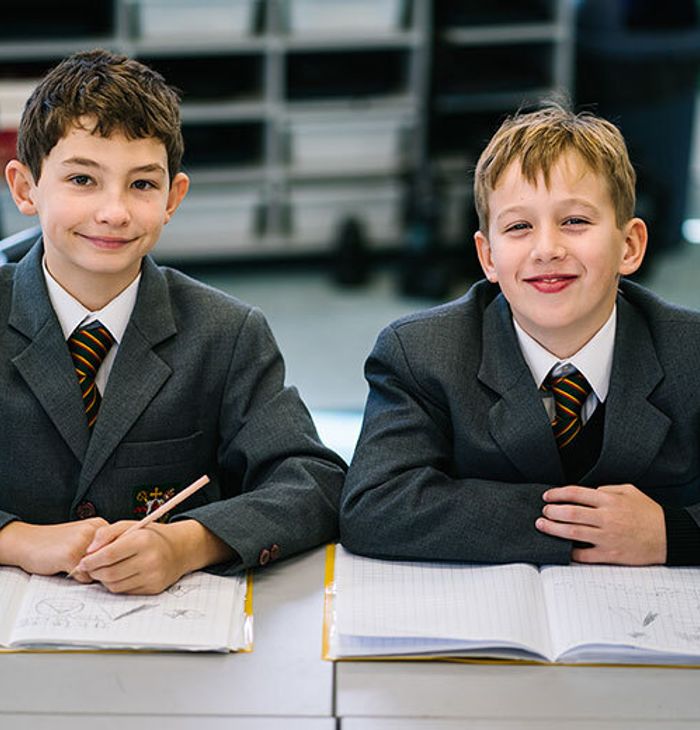 Learning Enhancement
Learning Enhancement involves all activities which increase the capacity of a school to respond to student diversity. As part of our dedication to the Augustinian values of Truth, Love and Community, we have a strong commitment to providing each student with the opportunity to achieve his personal academic best and reach his full potential.
ICT
Information and Communications Technologies are integrated into all teaching programmes and courses offered, so as to encourage students to develop those contemporary technological skills vital to the modern workplace.
Our highly qualified teaching staff are constantly developing, expanding and adapting their lesson delivery to incorporate the newest and most relevant educational technologies.
We are always aiming to expand our impressive technological facilities and are leading the way in embedded ICT learning. ICT has moved beyond simply being a tool for learning, it is now the fuel that drives it.
Activities that incorporate technology and provide a digital experience enhance student learning through collaboration, engagement and innovation. We run a 1-to-1 Primary Laptop Program in Years 5 and 6 where students are provided with their own quality device to use in class and at home to enrich their experience. As students progress into high school and further education, the development of organisational and communication skills becomes increasingly important. Much of the instruction in the Primary Laptop Program revolves around these as well as providing students with a wide variety of tools in order to achieve this.
In our BYOT (Bring Your Own Technology) Program for all students in Years 7 to 12, students can bring the most appropriate device to suit their individual learning and creative styles. Giving students this choice and flexibility helps provide a realistic and bespoke technology experience where they are able to take ownership of their learning and become responsible, global citizens.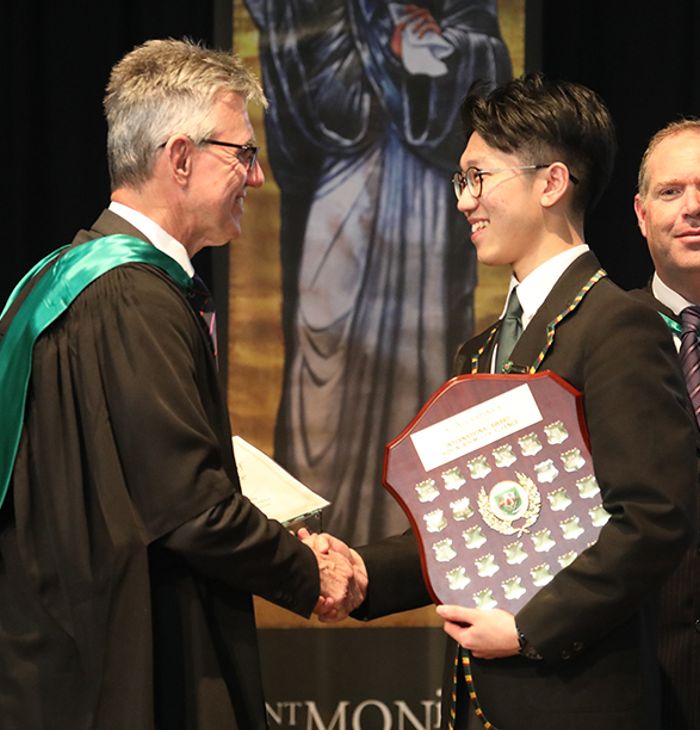 Academic Achievements
We are one of the fastest improving academic school over the last ten years in NSW and our academic trend continues to rise.
In 2021, the graduating class ranked 73rd in the State and was the 4th ranked Catholic school for boys. The top ATAR was 99.90 and our 2021 HSC students achieved 186 mentions on the NSW Distinguished Achievers List.